3 Natural Materials – 3 Unique Ways to Use them All in your Decor
The trend of using natural building materials has never gone away. It's the appeal of certain types of natural materials that trend over time. Since the early settlers installed their first 40" wide pine boards, natural building materials have proven they are beautiful and timeless.
The ability to bring nature into your home has been an ambition that homeowners have strived for over the centuries. For generations, humans love the natural and organic appeal of elements that make them feel calm, at peace and above all welcomed into a space.   — Ronique Gibson, Freshome
Today, we'll look at three of the most popular over time, and three ways you can use each of them in your home.
Brass
Over the last 10 years or so brass has gotten a bad rap with consumers because the market was saturated with low quality, imitation materials in everything from the hardware on your doors to the lighting fixtures hanging in your living room.
But the intrigue of brass from the design community has never truly died, it just became more difficult to acquire the high-quality brass that you might associate with high design of the 70's and 80's. These reflect a timeless style and exquisite craftsmanship that everyone desires for a beautiful interior.
We all know that you can find brass lighting fixtures and door hardware, but here are three unique ways you can also use brass in your home:
1. Stairway
Building a stairway to incorporate brass into the ballisters, handrails, and spindles is a unique look. You can dress it up in a modern penthouse with marble and granite, or incorporate it into this stylish, yet more rustic decor with wood flooring and antique beams.
Rustic Staircase by Millbrook Architects & Designers and Crisp Architects
2. Trim
There are many types of trim you can put in your home — everything from baseboard to molding. Or you can trim out your kitchen with brass like in this kitchen. The light reflects out of the translucent cabinetry, the bronze accent trim is a nice accent to the modern kitchen.
Contemporary Kitchen by York Home Stagers and Susan McDaniel
3. Range Hood
Interior Designer Lisa Farmer suggests that if you want to incorporate brass into your space do so "sparingly or in unexpected ways" because it can make a big impact. Nothing proves that more than a brass range hood from featured in Dwell magazine. It's a nice touch, along with the brass lighting accents and sink faucet, without being too overwhelming.
Copper
Copper isn't just for plumping and pipes. Unlike the silver tones of steel and nickel that have been abundant in the market of late, copper gives you that warm amber hue you won't find in any other natural material. You can polish it, or let it age naturally, which will affect its color over time. Either way, you can use copper to dress up a room with a tasteful accent piece, or add a touch of vintage charm — think copper clawfoot tub. Not on our list of recommendations, but it is definitely #4.
Here are three ways you might want to use them:
1. Ceiling
When it comes to a stellar ceiling design copper may be your go to material. Despite its vintage charm, you can dress it up or dress it down and the warm hues contrast nicely with lighter a light interior color palette. Notice how in this Florida home the interior design played off the ceiling (or vice versa) bringing in the copper tones in the furniture, and window fashions, lighting, and other accent pieces. Mediterranean Living Room (pictured above) by Naples Home Builders Kurtz Homes Naples
2. Kitchen Island
Forget a standard wood, or white island and make a  statement with copper like in the kitchen pictured above. It will be a great conversation piece and add an elegant design aesthetic
3. Backsplash
If you are going for simple, and yet feel the pull of copper alluring colors and natural texture, consider adding it to your kitchen backsplash. This 2013 KBIS Show Home shows just how well it can work. The abstract copper hardware detail on the cabinets is a nice addition as well.
Wood
For century's wood has been one of the most sought after surfaces for the interior of a home. To the early settlers it was by necessity, today it is because homeowners and design professions alike understand that wood is timeless, versatile, and classic. Kitchen cabinets, doors and wood flooring aside, there are a number of other unique ways to bring wood into your home.
Here are 3 ways you might want to use them:
1. Wood Beams
You can use wood beams throughout an entire room, or keep it simple and add one to your fireplace as a mantle.
2. Ceiling
Almost everyone loves a beautiful wood floor, but this material can also be used to make a beautiful wall, or ceiling paneling. Reclaimed wood is especially beautiful if you like a raw, rustic appearance, like the Reclaimed Barnwood you see in this oceanfront California home, designed by Design+Build by South Swell. They multitude of gray, brown weathered colors add a rustic touch to the shabby chic interior.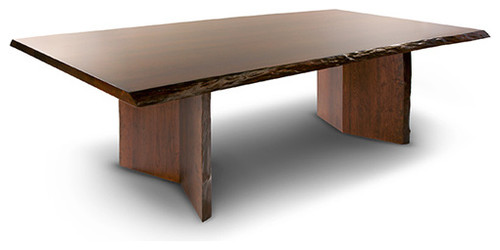 3. Live Edge Furniture
If you have never seen a piece of live edge furniture, you are in for a treat. Furniture craftsman literally take full size boards, logs with the original edges still intact — just like how they were cut from the log after debarking — and craft tables, chairs, and other furniture.
The timbers used to build this type of furniture, and the high level of craftsman involved with creating them, warrants a higher price tag, but the value of such a piece, and knowing it is 100% unique and custom to your project (just like a Carlisle floor), makes it all worth it.
Creating a timeless, and beautiful aesthetic for the interior of your home is so important, but the appeal of using natural materials in your home decor could also be attributed to our growing environmental awareness and the importance of preserving Earth's natural resources. Perhaps by bringing them into our homes, we can help reestablish a deeper connection to the Earth and pay closer attention to details like sustainability, techniques of craftsmanship to preserve these resources, and shopping locally for locally made products to minimize our eco footprint.
 – – – – – –
Whatever your reason for bringing them into your home, you are sure to find a great sense of peace and comfort once you do.
Get Inspired
From luxury homes to commercial interiors, browse an extensive collection of the wide plank flooring that we have designed and crafted for clients all over the world. Find inspiration then save it to your own personal library of images to share for further design exploration and planning.