4 Natural Wood Products for the Home Interior in 2014
Do you love the idea of natural products in your home?
Modern, rustic and everything in between – natural wood fits into any decor. Today we've uncovered 5 natural products that are sure to be popular in 2014, but timeless enough to enjoy for years to come.
Countertops
Wood countertops are a beautiful accent piece. Use them at the entry, to showcase a piece of artwork, or a collection area for keys and other necessities. These countertops can be made from solid wood beams, like this one from Live Edge Design, or you can use individual planks of wood. You can build it on top of a base, like this piece below, or integrate in the construction so it is literally built right into the wall. Be sure to bring that up to your builder early on, if that is your preference so he can modify the construction accordingly.
Forego to the usual granite, stone, or quartz and why not use wood countertops in the bathroom? There are finishes available, like waterlox, that completely seal the wood from moisture.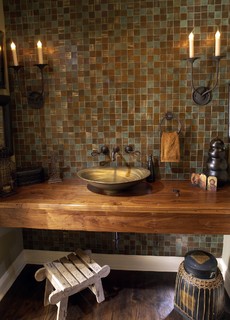 Of course, you can use wood countertops in the kitchen. Even if you want quartz, stone, granite, or another surface for your kitchen counters, you just use wood as an accent piece for example, on your island, or breakfast bar. You can use a countertop material, like Walnut, to match your dark wood floors, like this home from Elements Architecture.
Live Edge Furniture
Live edge, as the name implies, refers to wood that has not been straightened are squared on the sides (and sometimes the ends). It captures every turn in the path of the tree trunk to the top of the canopy, and it is breathtaking when captured by find furniture makers like Live Edge Design.
Lighting
Aside from the wood veneer based lamps and pendant lighting, you might not have imagined what else was available for natural wood lighting options. We found a few unique products on Houzz. This unique lighting fixture is made from piece of antique wood flooring, industrial lamp shade and a pressure gauge.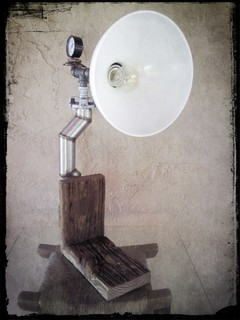 Long, thin reeds of wood surround a bulb in this simple pendant lamp.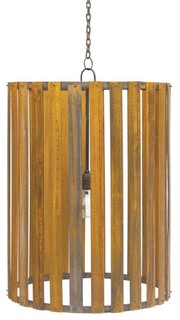 And one of the most unique of all…this pendant lamp is crafted from steamed strips of wood that are bent, woven, and intertwined to create this stunning visual effect.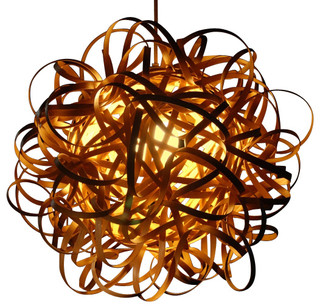 Wood Floors
Wood floors are the canvas on which you entire interior design is built. And this year we are embracing the natural beauty of real wood! How about a little less of the dark stains, and ebonized finishes and a little more of the textures and finishes that bring out the natural grain, colors and character of these oak wood floors, which have been created as the tree grew over the last 100 years.
Do you like incorporating natural wood products into your home? What other products have you used?