4 Renovation Resolutions to Makeover your Home Decor
The New Year is all about resolutions and many people invest in a personal makeover to improve their health.  But how about a makeover of the home, or maybe a room that is just dying to get a new look!
With these four 4 renovation resolutions you are sure to update your space to keep it on trend and always in style.
1. Clean & Contemporary
Home décor takes on many styles, but in 2015 clean and contemporary is the way to go for your home renovation. And luckily creating a classic, contemporary look can be done in many ways by selecting the design elements. The Le Corbusier styled leather armchairs with stainless steel framing combine with the high ceilings, and crisp, white walls to give this Colorado living room a contemporary look despite the classic nana wall and casual Hickory wood flooring boasting an interesting blend of colors and character.
In this Shanty Bay Bathroom the designer combines a rustic live-edge wood counter with a contemporary marble sink bowl, flat panel mirror, and modern grey tile for the backsplash.
This Michigan Bedroom epitomizes a classic, contemporary look as it combines a variety of details including decorative wood wall details around crisp, white walls, a modern platform bed with wide pine floors.
From the suspended wicker chair in the corner, stainless steel framing of the bar stools, modern sectional sofa, industrial lights – this Seattle Living Room has the makings of a timeless contemporary style.
2. Bring on the Bronze
Metallics continue to make a splash in 2015 in every room of the house. Indulge in a decorative bronze plumbing fixtures and sinks to dress up your bathroom or kitchen.
Look for interesting lighting elements, like you see in this Michigan dining room to hang above your island or dining room table.
Bronze colored tile for your backsplash or shower area is a great way to tie together the other bronze fixtures in your room.
3. Wonderful Wallpaper
Next to updating your wood flooring, changing the paint color in a room is one of the best ways to transform a room. But instead of traditional paint, why not consider wallpaper. Wallpaper can be simple, romantic, or to appease point # 1 … nice and contemporary. You can make it subtle and charming, or give a room a pop of color.
If you don't want to wallpaper an entire room, opt for an accent wall in your living room, entry or bed or bathroom and choose the color, design and layout to complement the style of your room.
4. Prefinished Wood Flooring
In 2015, installing new wood floors in your home should be easy! It is something you can have done in a few days. No longer do you have move out of your home, and deal with the hassle of unfinished wood flooring. Prefinished wood flooring is available in solid and engineered construction so you are sure to find the right floor no matter where you need to install them – at, above, or below grade. And wood floors are available in the most versatile color pallet – just check out some of the newest styles from Carlisle Collections.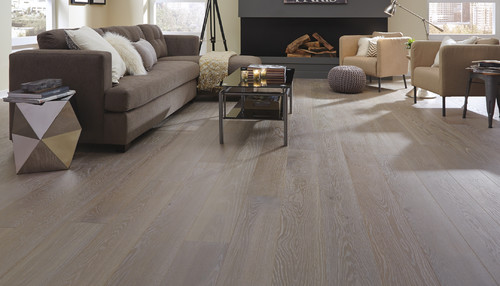 No matter what your renovation resolution is for 2015 use of these interior design updates to create a beautiful space.