4 Space Planning Tips to Create a Grand Entrance for Any Size Entryway
The entryway to your home should be welcoming and introduce your visitors to the design and atmosphere of your home. Even though there are countless interior design styles to choose from today, there are some basic principles that you can follow for any décor to create the perfect grand entrance.
1. Size Doesn't Matter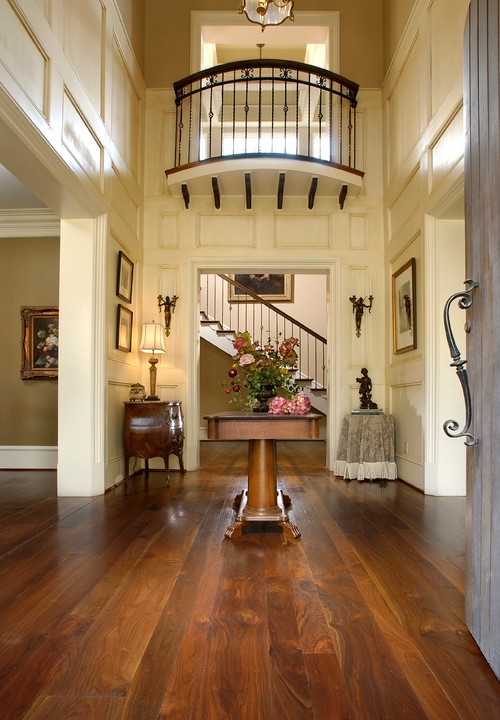 Small, medium or large — entryways come in all sizes and it's important to put together the proper space plan and interior design, no matter what size yours may be. If you have a smaller entryway and can't adjust the dimensions, you can still create a grand entrance for your guests and family.
To start, you'll want to give the illusion of space where there is none. You can do this by making your walls seem taller. Two ways to do this are by keeping your ceiling's color light or by installing horizontally striped wallpaper. Both will help create the illusion that the room is taller than it really is.
Mirrors can also work wonders, especially in small entryways. In larger entryways, they tend to be more aesthetic than functional. But if you have a small or narrow galley entryway, install a large mirror on one or both of your longer walls to give the sense of a larger space – especially if it reflects into a larger space, such as an adjacent kitchen or living room.
If you have a large entryway, you want to make sure people don't feel lost in the roominess. Do this by adding furniture pieces so that the room doesn't appear so wide open. Or further define your open spaces with plants or accent rugs.
Be sure to install your wood flooring in the direction you want people to travel, and always use wide-plank wood flooring of at least 6″-8″. No matter the size of your entryway, wider boards will make a narrow or smaller entryway seem bigger or will nicely match the scale of a larger entryway.
Lighting is an important consideration for your entryway.
You want the space to be safe for movement and to set the right mood. If your space is small or you're lacking light, add a transom window above the doors. Or choose doors with inset glass or an adjacent vertical window. You can also add skylights to the ceiling. There are companies, such as Skyfactory, that create faux skylights if adding one is not in the design plans. And to calm the room, install accent lighting rather than bright, stadium-style lighting.
According to Real Simple magazine, hanging lights should be 6' 8" above the floor for the best aesthetic and function. The entry design seen here creates an interesting lighting pattern to break up the modern, open space.
2. Colors
When choosing a color for your entryway, the size of the area should  be also considered. According to the blog retrorenovation.com, color choices can make a room seem larger or smaller.
For small spaces, opt for cooler colors like blues, purples and greens. If you have a large entryway and you want to make the space feel a bit cozier, opt for warmer colors such as yellows, oranges and reds. Neutral colors like shades of white, brown and gray are versatile backdrops for an entryway of any size, and may not affect the illusion of space.
According to the theory of Color Psychology, the colors you choose might excite or calm the senses, which can have a big impact on your guests as they arrive at your home. Red, for example, may make people feel excited (and hungry). Blue could be calming but make people feel a bit cooler. Yellow can make the room more cheerful while green helps one relax.
The colors you choose for your room may also play into your furniture selection. For smaller entryways, for example, House Beautiful recommends matching the color of your furniture to the wall color, as this makes the furniture disappear into the room, thereby making the room seem larger.
3. Direct Traffic
The entryway is a transitional point into the rest of your home. You want people to feel welcomed but also to move on once they've entered. Whether you have a small or large entryway, you should use your design elements to direct traffic.
If using hardwood flooring, and the entry into your room is narrower than it is wide, install the flooring so that the lengths of the planks run in the direction of the hall. If you have a very narrow entryway, make you sure to use boards at least 6″-8" wide to enhance the beauty of the wood. If your entry is larger and somewhat square, the direction of the planks will depend on where you want to direct traffic from the entryway.
If you're installing oversized tile, the direction in which you install it will depend on the dimensions of the room. And it doesn't matter in which direction you install square tiles. You may also consider installing your tiles in a pattern to match the flooring you'll use elsewhere in the home. This creates a very interesting design aesthetic, and integrates your entryway into the overall look of the rest of the home.
4. Keep it Organized
Keeping your entryway organized can be challenging no matter size it is. In large rooms, you have the space to be organized but may lack an effective plan. In smaller spaces, you want to be organized, but don't have enough room.
Here are a few ways tips that might help:
Create zones
Use a heavy-duty accent rug to section off the entryway
Use furniture that will pull double-duty
Create hidden storage
Make use of vertical space
Also: Consider your furniture placement. If you have a large space, don't limit furniture to the perimeter walls; you can allow pieces to float in the room to collect wallets, keys or just to add a vase of flowers. This will create space for closets, armoires, coat racks or other organizational pieces around the edges of the room. And if you have a smaller space, you'll do just the opposite and keep most of your organizational pieces on the outer margins.
Lastly, in order to be organized, you need to keep things neat. Consider putting a small waste-paper basket in the room  or set up a mail station so you can quickly sort through it and handle the recycling right away.  This small step will help keep the rest of your home clutter-free, too.
 – – – – – –
Do you have any design ideas to share for an entryway?