Home Improvement Projects – DIY or Contractor?
When it comes to improving your property, there are a number of interior and exterior upgrades you can make.
But it is tough to know whether you can successfully complete the project yourself or if you need to bring in a professional. Today, we'll review some of the ways to evaluate if you are ready, willing and able to tackle a DIY project, and which projects are best left to the professionals.
Are you Ready, Willing and Able?
New kitchen cabinets, tile in the mudroom, fresh paint on the walls.
All of this is very appealing, especially if you have lived in your home for some time.  And you may be more than willing to do it yourself, to save money.  But, before you pick up a nail gun, or invest in tiling supplies, check out this list of questions from the National Association of the Remodelers Industry (NARI).  Here's a sampling:
How much time can I commit each day/week to complete my project?
Does it have to be done by a specific time?
How can the weather impact my project?
Will this be too much of an inconvenience to manage independently?
Are you familiar with local building codes/ordinances so you avoid fines/fees?
Do you have the skills required to complete the project?
Do I know local, reputable contractors for the various tasks that need to be performed, that I am unable to do?
For ambitious homeowners who are prepared to tackle a project, keep in mind there are some tasks that are best left to the contractor, unless you are a trained, licensed professional in this field.
Electrical
Plumbing
Heating/Cooling/HVAC
Structural framing/construction
Performing tasks in these areas can be both unlawful in some states, and dangerous.  If your remodel will require this kind of work, you can still DIY your project, and become your own general contractor, but sub the technical work out to a licensed professional who can ensure that the work is done to code.  You will need to factor in the costs, labor, and time requirements of the companies you need to hire.
If you are going to take part in a hybrid DIY project – part DIY/Part contractor – verify that the contractors you will be hiring do not object to your DIY portion of the project, so it does impact the warranty for their work.  You also want to set the right expectations for scheduling, accessibility and the overall working relationship you will have.  If you are hiring sub-contractors, coordinate your job schedule with them early one, otherwise, your part-time project could take a lower priority to the full-time projects the contractors has already lined up.
Now, let us look at a few common remodeling projects, and evaluate if they are DIY friendly or if a contractor will be required.
Landscape Remodel
Remodeling your front or backyard can boost your home's resale value substantially.
You can give the front of your home more "curb appeal" to enhance the quality and value of your home. You can also revamp your backyard to maximize space and outdoor living areas, and get more enjoyment from the available space.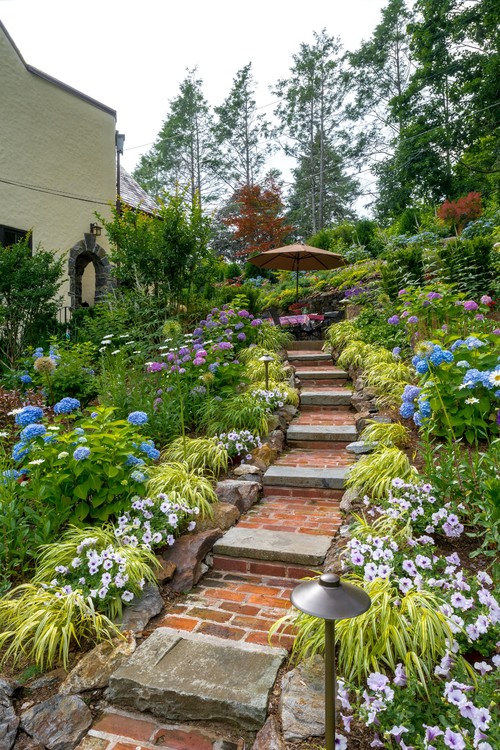 But landscaping professionals and services can be costly.  The national average for a landscape architect is $3600, for a full lanscrape design is $5,400, according to HomeAdvisor.com.  If you have big plans for a pergola, pond or water fountain, you are probably wise to invest in professional  design and installation services.
If your needs are a bit more elementary – grass seed, flower beds, staining a deck, planting a few trees – you can probably tackle this project as a DIY.  Keep in mind you will get dirty, and you may need a massage or chiropractor appointment when you are done, but the cost savings will be well worth it.  Here are some tips to get you started:
Develop a plan for your new flower beds, trees, etc so you have an organized map of where everything will go, and what you need to buy
If you are painting/staining take measurements of the areas to be finished so you know how much to buy
Visit a local nursery to learn about the types of plants that do best in your climate
Be sure to pick up adequate supplies for application AND Clean up during and after the project is complete
Determine if you have all the available tools to dig and plant, remove or bring in rocks/stone
Seek inspiration online through idea sites like Houzz and Pinterest
Kitchen & Bathroom Remodels
Kitchen upgrades are one of the most sought after remodeling projects of 2014.
According to Houzz.com  homeowners spend 4-6 months on a kitchen and bathroom remodeling project.  The national average cost for a kitchen ranges from $18,800 – $54,900, depending on the complexity of the design, and the average bathroom remodel ranges from $16,100 to $51,300, according to Remodeling.com.  That is a big commitment of time and money.
The extent to which you can remodel your kitchen or bath really depends on the complexity of your remodel.  There are many tasks that are DIY friendly.  Refacing or refinishing your cabinet doors, installing new faucets, installing a backsplash, painting the walls, or installing a ceiling fan.
But there are some tasks that you may prefer to have done by a specialist.  They may require some technical expertise, or precision skills that you lack, or don't have the tools to accomplish. This includes:
New Countertops
New Lighting Set up and Installation – especially if there is wiring, dimmers, etc involved.
Installing a new sink
Moving major appliances/electrical connections
Resizing a kitchen
New Flooring
Replacing unattractive or dated flooring is one of the best ways to upgrade a room, and and it's also one of the more manageable DIY options.
There are so many flooring options out there for you to choose from.  Ceramic or porcelain tile, stone and other hard surface flooring is popular for bathrooms and mudrooms.  But it is time consuming and messy to install, so save it for small rooms. You can follow these tips from This Old House to get an idea of the process and tools required.
Wood floors are most popular for common areas like your kitchen and living room. Prefinished hardwood flooring especially, is one of the best DIY choices, because all you need to do is install your flooring,nothing to stain or finish once it is all in place, just move in!  Wide plank floors are better than narrower strip floors and smaller tiles, because you have less boards to install, so it can go much quicker!  Hardwood flooring installation also requires less tools, typically a meiter and skil saw, nail and glue gun.  Your flooring manufacturer can provide you with some tips to assist with installation.
Other Ways to Save
If your project is going to require some assistance from the pro's, and/or you will be acting as your own general contractor, there are still steps you can take to save money.
Don't just shop the big box stores, look to your local lumber yard and appliance center for deals
Ask for volume discounts if you purchase all your appliances in one spot
By appliances off season, when last seasons appliances are still stylish but offered at a reduced cost for the new arrivals
Cut out the middle man, and go direct for small items like faucets, countertops, sinks, and hardware
Partner with a kitchen cabinet company who provides free design, planning and measurements – just make sure they are NKBA certified so there are no costly mistakes to fix because of errors
Buy direct from the wood floor manufacturer versus through a traditional retailer
Before you start making purchases verify with your subcontractor what items were included in their estimate to ensure you don't get stuck with unnecessary expenses.
Final Inspections
Once your project is complete you need to determine if a final inspection is required.
Naturally, structural changes to the home for your remodel require greater attention – especially in older homes – than cosmetic changes.  This will ensure everything was done to code, will be safe and structural sound for many years to come.  If you subbed out work to general contractors, they should be responsible for inspecting and approving their work, and providing you with a final warranty.  You can also hire an independent home inspection company to do this.
Are you a DIY enthusiast? What tips do you have for other homeowners?