From Mantles to Table Settings – 5 Sophisticated Fall Home Décor Ideas
It's time to put away oversized pumpkins, spider webs and other goulish creatures and take a turn toward something a little more sophisticated for your home decor, both inside and outside.
Today, we'll show you home décor ideas to create a sophisticated atmosphere in your home to take you through the rest of the fall season.
Front Door
To create a sophisticated entry for all your guests forget the pumpkins and gourds and Indian Corn and opt for a simple decorate wreath on your front door like this cotton burr wreath from SouthernLiving.com It adapts through fall and winter holidays, just change the color of the burlap bow on top.

Entryway
When family and friends enter your home you want it to be warm and inviting, with clear direction on where they should go next and where they should store their belongings (coats and shoes). But you also want to protect the flooring in your entryway be it hardwood flooring or tile. Select an all-weather area rug to collect dirt, water and other debris synonymous with fall weather. Be sure to choose a simple yet sophisticated design that goes well with your overall décor.
If you know who'll be visiting set up a collection spot for hates, gloves, purses and mittens. Wicker baskets are an inexpensive and tasteful way to temporarily store items during the holidays. Place a decorative family name plaque for easy identification.
To make a great impression, consider a spread of nuts, cheese and crackers, wine and cider on an entryway table, so guests can grab a drink, and a snack as soon as they enter the door. This is great way to tide over growling bellies until the full meal is set up.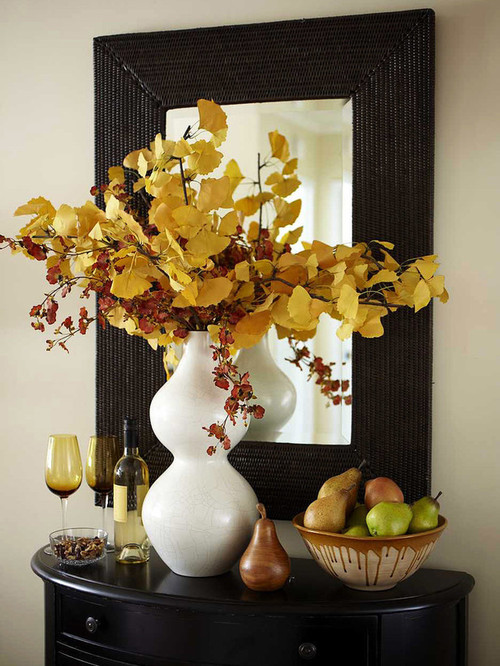 Table Settings
And speaking of food, when it is time to sit down for a festive fall holiday dinner, you want the setting to make a statement so pull out the good china and dishes.
For a sophisticated look we found some great ideas from Homedit.com.
First and foremost, keep the table neat, and choose your table accent carefully to avoid clutter. Pick an overall theme, be it fall foliage, gourds and pumpkins, or logs, twigs and logs. And choose a color scheme whether it is consistent or monochromatic.

Source: Homedit.com
If you have an organized seating chart, get creative with your name cards to make the table fun, inviting and organized when it's time to sit down for the long awaited meal.
The Mantle
There is probably nothing quite as cozy as settling in the family room and basking in the warmth of a freshly lit fireplace. Don't neglect your fireplace mantle when it comes to Fall Décor.
For something more sophisticated than pumpkins and gourds, choose design elements that are simpler and monochromatic. Start with some fall photography or botanical drawings of leaves and scenery, in matching frames. If you like pumpkins paint them white or a metallic hue lie copper or silver. If you like plants choose some simple greenery and display them in a tasteful pot or vase.

Source: MidwestLiving.com
Furniture
You probably aren't planning to introduce new furniture just for the fall holiday, so instead just dress it up with cozy layers and simple colors. This seating arrangement from HGTV.com shows off a contemporary armchair draped with and a cozy gray throw (that goes with all the seasons), and modern lighting with decorative fall foliage, amber and copper accents in the background.

Source: HGTV
And as the weather turns cooler outside, you can capture some of the beautiful fall bounty by bringing plants, foliage and fall flowers indoors for your tables, hutches and buffet. Place them in clear or amber glass vases and color up your guest rooms and common areas.
If you prefer a little more color think of the auburn, copper, reds and greens of the fall season and mix those in to your accent pillows and throws. Or look for items with botanical prints and stitching.
How do you keep your home looking sophisticated with fall decor?