Super Bowl Party Ready Planning Tips for your Home
One of America's favorite national pastimes is coming up this weekend with "Super Bowl Sunday". Are you hosting this year?
Whether you are rooting for the New England Patriots or the Seattle Seahawks, don your favorite football gear and get ready to prep your home for the big event. There are three priorities for any party — make sure your guests are well fed and comfortable! So what is number 3? Make sure you don't stress, and with our handy tips below we are sure you'll feel well prepared!
Get your Rooms Ready
When you are planning for guests, the first room you want to organize is your entryway. Set up your entryway to make it easy to store shoes, hang up coats, and move people through as quickly as possible. This is especially important in areas hit by the recent snowstorm because they'll have layers of warm clothes and wet boots that can quickly create clutter.
If you don't have a traditional entryway look for a coat rack, and some inexpensive baskets where you can store items for your guests.
Next, you want to prep your Living Room or Family room. First and foremost, make sure your television is working and the channel is autotuned for the big game. If you don't have a stellar home media room furnished with a number of comfy recliners, the next thing you want to do is prep for the extra seating. Take an inventory of the current seating elements in your home — Armchairs, folding chairs, ottomans– anything moveable and "seatable". Then hatch a quick plan to relocate these to the designated viewing area. If relocating seating is not really an option than simply make use of extra, unused pillows and cushions to create casual seating on the floor.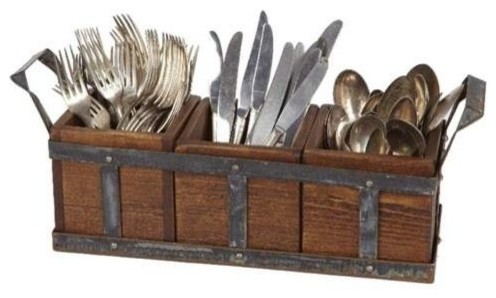 Even though most of the excitement will be happening in your living room, your kitchen will be the epicenter of the party as people search out eating utensils, napkins and, of course, food that you have prepared, and items provided by your guests. Make room for everything by cleaning off the countertops in your kitchen right away. Then, as its time to bring out the food and utensils, you will have plenty of room to set up. This also makes it easy to organize as you bring everything out.
Silverware caddies or just baskets and pottery help keep utensils out in the open but still organized.
If you have guests with food allergies or dietary preferences, single out a space for these "specially prepare" items, and keep clean utensils reserved for this food only. Your guests will appreciate the special attention! Make sure your half bath is clean and well stocked with hand soap, tissues, hand towels and other toiletries. That way no guests have come looking or asking which saves you time and makes everyone more comfortable.
Food & Beverage Options
No matter what type of party you are hosting, it is important to provide plenty of variety in terms of food and beverages.
Finger foods, chips and salsa go a long way. Soups, savory stews and chili's – along with all the "fixins" — are always a big hit at large Super Bowl Parties because they are easy to prepare, clean up after and they serve a large crowd. Make sure you prepare light, healthy options too and check in with guests who have dietary preferences or food allergies. If your party is a potluck or BYOB keep a list of what your guests are bringing so you don't double up and can plan accordingly for your own shipping list and recipe creation. If you need recipe ideas check out Allrecipes.com!
Beverage choices can be simple or creative for your party. If you have beer fans why not pick up some local brews like Sam Adams Boston Lager for all your Patriot Pals or Black Hawk Stout for Seahawks Fans. It's always a good idea to have red and white wine on hand because you don't know which people will prefer. It is important to have non-alcoholic beverages on hand too.
Use this handy calculator from Better Homes & Garden to figure out just how much food and beverages you might need for your party.
Ice is one of the most frequently forgotten items for the Super Bowl. Not everyone watching the Super Bowl this Sunday is going to be recently blasted by the largest snowstorm in over 30 years, convenient for keeping beverages cool outdoors. So you'll want to have ice on hand to fill up your sink or cooler and keep all the beverages nice and cool.
Decorate
Decorating your home for the big game is a fun way to create a festive environment for the big day.
Choose team colors for your party favors and napkins
Look to the football field for shapes and colors to decorate your desserts
Football themed plates save your dishes
Dress up your food for the occasion
Keep your Guests Organized
With so many guests in your home, it can be hard for them to keep track of their stuff. And it can create more work for you when that happens.
Assign a coaster to each guest for their drinks. This will make sure your guests use the same glass all night, saving you dishes.
Make sure people know where they put their keys or keep a key rack at hand.
If you have multiple family members, store their hats/coats/gloves together in one pile, basket or hook so it's easy to locate.
Don't Forget the Kids
Super Bowls aren't just for grown-ups! Nothing is cuter than a toddler in a mini football jersey.
If you plan to have children at your event a good host will have food, drinks and activities to keep them well fed, and busy while their parents watch the game. If you don't already have a playroom set up, it is easy to set up a small corner of your home for the night. Round up some toys, games and a tot-size table and chairs, and cozy rug and kids will be entertained (at least some of the night).
If your guests are planning to stay late, with their kids, make up some beds for them to sleep, or make room for the pack-n-plays.
Up All Night
There is no way to predict just how long that super bowl game is going to last to plan for the "worst" in terms of departure time for your guests and bedtime for you.
Here are a few suggestions:
Manage the parking
Try to organize parking so guests who need to leave early can get out, and make sure there is ample lighting so everyone stays safe when they leave
Make sure you will have plenty of snacks and beverages for the entire night
Clean up as you go through the night, so you aren't left with a big pile of dishes to clean up before bed
If you aren't a morning person after a later night, take a vacation day or plan to go in late on Monday
Be Ready for Anything
Have a houseful of people is a recipe for a mess, but add to that the excitement of the "big game" and there are sure to be some spills and accidents. Keep your cleaning supplies and plenty of towels and napkins within reach to pick up the mess.
Hopefully, you have hardwood flooring because those will be a lot easier to clean than carpet. If you do have carpet, be sure to keep some carpet cleaner fresh on hand.
Countdown to Kickoff
Now that you are ready for the big day, take 30 minutes before your guests arrive to double check everything is ready.
Here's a checklist we've adapted from Apartment Therapy:
Check the temperature — since your home will quickly heat up with the additional company it's ok to turn the heat down just a tad
Get the TV ready
Turn down the lights
Get you're your food and beverages ready
Take some Me-Time — whether it's a mixed drink or a cup of tea, take some personal time to unwind before it is time to entertain.
 – – – – – –
Happy hosting!
Get Inspired
From luxury homes to commercial interiors, browse an extensive collection of the wide plank flooring that we have designed and crafted for clients all over the world. Find inspiration then save it to your own personal library of images to share for further design exploration and planning.