Trend Watch: 6 Tips to Finding your Inner "Boho"
For many years modern and minimalist décor has taken center stage.  There are many reasons to love a more modern design.  It is clean in both aesthetics and lines and less cluttered.  But there are also reasons why modern styling may not be right for everyone.  It can feel a little too monochromatic and sterile.  Lately, the trend has been toward a more Bohemian look with more colors, textures, and patterns.
Today, we offer some tips to find your inner "Boho" to create a relaxed environment for your interior spaces.
Find Your Color or Colors
Perhaps the most important part of beginning to design your interior is understanding the colors that you like.  Some people are drawn naturally to a specific color either out of preference or personality.  There is a lot of psychology that goes into color selection (but
THAT is another blog post for another day).  If you aren't quite sure what color you like Pantone is a great resource. https://www.pantone.com/color-finder.
Choosing your colors will have a big impact on the selections you make for your furniture, wide plank flooring, walls, and accents.  Take the time to consider different collections and combinations.
It Doesn't Have to Match
The biggest thing to keep in mind when selecting the design elements for your Boho inspired room – it does not have to match.  Bohemian style is tailored around the lifestyles of hippies and gypsies, living vicariously and not worrying so much whether the throw pillows match the upholstery.
Given our propensity for matching, and the monochromatic nature of the Modern design that has flooded our home décor magazine in recent years, finding comfort in mismatched colors and textiles may take some getting used to.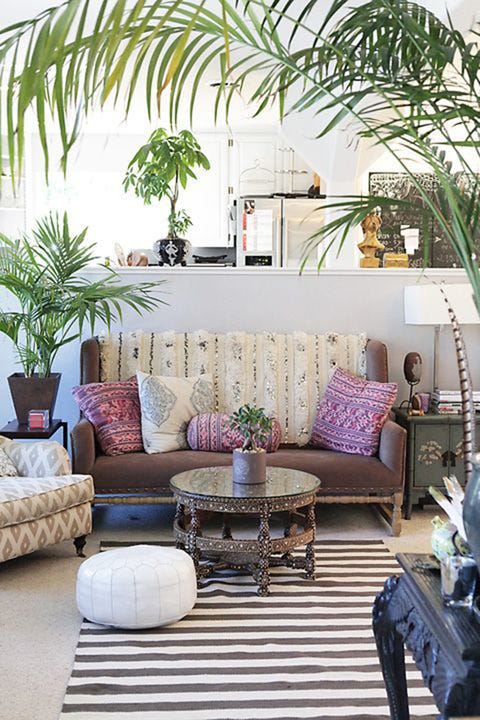 For some this can be a challenge, as their brain naturally wants things to match, but for others, for those people we say cut loose and have a little fun.
The Neutral Backdrop
Although the rule of thumb for Boho style may be "anything goes" there may be one small adjustment that you want to consider – the overall backdrop and canvas of the room.
Using a more neutral tone like beige, tan, white or cream is a great base to start with.   From there you can layer on colors and patterns to your heart's content.
When you begin the interior design of a room with a neutral color it also creates plenty of possibility in the future when you decide that the Boho styles isn't working for you anymore.
One way to add some colors to the primary backdrop is to consider a colorful accent wall.
Accents Matter
­­­­­­There are many ways you can add accents to a room to give it personality.  These are the six most common.   What makes accents so amazing is they are inexpensive and easy to swap out when you are ready for a new look.
Curtains
Area rugs
Accent Pillows
Artwork
Upholstery
Plush throws
Earth Elements
Creating boho style is about embracing our connection to the natural world and nature.   How can we do this?
Although adding a plant to your home seems like the most obvious solution and it certainly is a good choice, that is not the only way to bring a little bit of the natural world into your home.
Next time you visit the beach bring back some seashells and Driftwood.   Hang up some artwork or wall murals depicting scenery, trees, flowers or foliage.  With digital print and artwork in abundance today you can find some amazing artwork of nature's abundance.
Naturally, wide plank floors are a great choice for Boho styled rooms.  Wide plank wood floors, leather floors, or cork floors are a great choice because they are made from nature's bounty.  They are also available in a eclectic assortment of colors to help you find just the right backdrop for your space.  Some people even choose to use the planks for wall paneling.
Wrapping it All Up
Inviting a Boho theme to your home can be fun. It can also be very liberating as you no longer stress over matching colors, textures and designs, and embrace the natural joy of contrast within your interior to create a totally relaxed vibe anyone can sink in to.